Too many businesses offering services or products similar to what you offer?
 Have you been struggling to increase business revenue or find a place in your customers' minds and hearts?
 Then this is what is missing and needs to be fixed.
 Your brand positioning. 
Every business wants a better connection with the audience so that they can grab more customers, enabling them to sell more. But, before you go out creating messages or ads for your audience, you should first define "what is that you want your audience to remember" and that is where Brand Positioning comes in. Now the big question arises, What is a Brand Positioning Statement?
What is a Brand Positioning Statement?
If you scrape your elbow, do you ask for first-aid or a Band-Aid? If you are thirsty and want some popping fizz, do you go for a soda or Coca-Cola? Now, you might be thinking how do I know all the solutions to your problems? Here is the secret my friend, Brand Positioning. 
Successful brands like Band-Aid and Coca-Cola have one thing in common, i.e., a strong Positioning Strategy. In fact, their brand names have become a generic term for all other products in the same segment. In today's era, it is not enough to have a product or a service that sells on features and benefits. People are looking for an experience and to belong.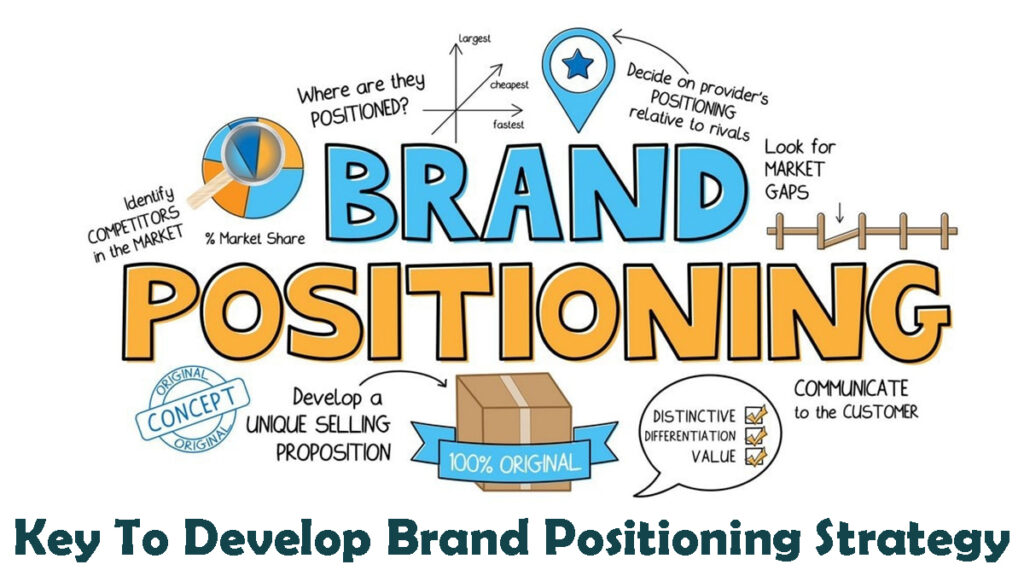 (Source: Indian Marketing School) 
Brand Positioning Statement is a brief description that defines:
what

your brand does

for whom

it does it for 

the

unique way

it does it 
It enables you to differentiate your brand from the competitors and helps you offer an experience to the customers. The essence as to why some brands have been able to reach the pinnacle and have stayed on top since then is because they have done justice to their Positioning Strategy and have stayed true to the Positioning Statement they have devised. 
Will Barron: A Marketing Specialist has rightly said, "You only get the opportunity to position your brand when you're doing something remarkable. Anything else is just a comparison." An effective brand positioning happens only when your product or the service is considered favourable, more valuable, and credible to the customers.
Brands are losing thousands of dollars on the table by not investing in their advertising and branding campaigns. This not only hampers the growth of the brand but also bleaks its competitive edge. Brands that are consistently presented in the eyes of their customers see an average revenue increase of 10-20%. Successful branding yields benefits such as increased customer loyalty, an improved image, and a relatable identity that sets you apart from the competition.
How to create a Brand Positioning Statement
A Brand Positioning Statement is the foundation of your company's marketing and advertising efforts because it outlines how your product will be targeted to the audience which will enable them to perceive the uniqueness of your product. So, the question arises how do you go about creating your Brand Positioning Statement. To begin with, you need to answer these fundamental questions.
Define your Target Audience
Consider today's Brand Industry as the Mahabharata and you are the Arjuna of this epic battle. If you do not hit the Fish right in the eye, you will not be able to win the game. The target audience is the "who" aspect of your positioning strategy. These are the people you want to target and sell your product. Knowing the right group and delving into the right strategy will make the audience find the most value in your product. 
(Source: Martech Live)
Precision is most required at this stage as you have to make choices on who has to be targeted, who has to be excluded from the group, and who is the ideal customer for your product. As mentioned earlier, the customer wants a sense of belongingness, they want to see themselves in your company. The more focused your Positioning Strategy will be, the more people will feel they are being heard.
You need to see who you are up against so that you are not blindsided at any point in time. As a brand, you need to know the market landscape; your competitors, their offering to the market, strengths, and weaknesses. You have to act as Sherlock Holmes first and understand the market landscape before you can go out compete with the existing brands.
(Source: European Commission)
Knowing the market does not primarily mean knowing one's competitors, it also means determining your current positioning to analyze the market and further devise a road map. You do not want to offer a product or service which already exists in the market and customers have already adopted them in their lifestyle. After having gained knowledge of every possible dynamic of the market, your next step should be to do things differently.
How will it benefit customers?
There are several brands available in the market to solve even the tiniest inconvenience one could experience, then how to make sure your brand is the go-to solution to their problems? The answer is Differentiation. As there is only one King in the game of Chess, just like that you should be the only brand that can have an upper hand in a particular differentiating factor.
The most important thing to get across the minds of the customers is to tell them "how are you different from others?"  Differentiation can be done on a number of basis like:
Features of the Product

Quality of Service

Price Charged

Distribution Channel

After-Sale Service

The process of providing experience to the Customer
The list will go on and on and stop right at the point where you are the master of the game. In other words, you should know what your differentiating factor is and no one has the capability to duplicate that. As it's quite difficult to imitate patented innovation like Tesla has been winning over the competition in electric vehicles.
Make customers believe your brand
Walmart focuses on lowering its operating costs. The cost advantage that it has created has allowed the retailer to price goods lower than most competitors. This enables Walmart to provide durable and low-cost products and overall reduce price-sensitive customers' pain. 
(Source: CMO from IDG)
Customer Pain refers to the problems or the issues your target audience is facing. If you are unable to answer their one simple question "What pain points are you solving?" it will be a doomsday for your business. To make the desired emotional connection with your audience and to retain them, you need to touch upon their pain points and should be available as a remedy.
Your product or service should aim to address the issues of the customer and provide a solution. If the customer is not able to see what's in it for him, all the benefits, USP, and your offering to the market will not be able to create a favourable position and your brand would not be able to drive customer loyalty.
How to write The Brand Positioning Statement
As we move forward towards writing our Brand Positioning statement, here is a template by Brandorate that you can use to create your statement:
For <target audience>, <Your Company Name> is the brand in <name of industry> offering <unique selling proposition or what do you offer>.
To write your Brand Positioning Statement, all you have to do is fill in the blanks from the answers to the questions that you have asked yourself earlier.
Let's take an example of two of the leading brands in their industry.

Target audience- Serious Athletes
Brand- Nike
Name of the industry- Shoe
Unique selling Proposition- Gives confidence 

Target audience- Cultured Millennials
Brand- Starbucks
Name of the industry- Premium Coffee House
Unique selling Proposition- Intimate and Valuable Experience to a consumer's lifestyle by integrating Caffeine with a Comfortable Environment. 
Having a good brand or service is not always about features and benefits, what customers are looking for is an experience, a great feeling and it's a good way to show people what they are getting by using your product or service is by developing a great Brand Positioning Statement. 
Having a good brand or service is not always about features and benefits. What customers are looking for is an experience, a great feeling. Developing a great Brand Positioning Statement is a good way to educate consumers on what utility you are providing.
An ideal position statement shall possess the following characteristics:
It should be brief, precise, and simple 

Memorable to the audience

Clearly defines your uniqueness

Addresses the Pain Point

Differentiates your business from the competition

Remain true to your business's core values

Indicates what the brand delivers to consumers
Why is Brand Positioning Important?
A successful Brand Positioning is a must for any business striving for success and the proof of which lies in the numbers. 
A positioning statement enables you to

understand your competition clearly

. Listing who comprises your competition and the way you differ from the varied players will assist you to identify opportunities and specialise in what makes your product or service better than alternatives already available in the marketplace.

It helps you identify

what customer problems your product or service will solve

. To have your business achieve success, you want to understand the advantages your product or service provides to the customers which will define your specific place within the market.

Positioning helps you

identify your target customer

. Analyzing various customer segments and selecting your niche will help you define your target customers and market your product or service, cost-effectively.

It causes you to

think creatively

about what you would like your business to accomplish. Every business wants to earn money, but what else do you want your product or service to deliver? A greener environment? Cost savings? Thinking through the emotional connection you'll have with customers through your product or service will assist you in further identifying and connecting with your audience.
Positioning brings

focus

. If you are trying to build a business that should mean everything to everyone, it won't mean much to anyone. Understanding your core functions is critical.
It makes you

prioritize

. As you begin your business, there will be a lot of tasks and goals you would want to accomplish. Developing a positioning statement will help you set your goals in order and make you focus on the priorities first.
Creating your unique statement makes you

think about the industry

you are about to enter and conquer. Looking at your strengths, weaknesses, competition, target market, and other business issues gives you an Eagle's eye view of the industry you are about to enter and minimizes the challenges you might face in your pursuit.
It helps you fine-tune your

market fit.

Understanding your industry and the features that make your product or service unique helps you seize your niche within the marketplace.
It helps ensure a

successful product launch

. Proper planning before a launch can help prevent poor performance.
Brand Positioning for Small Business
At the end of the day, an honest brand positioning statement is about identifying the experience you would like your customers to have and guiding the internal teams who make it happen.
Even small businesses can have core competencies and gain a competitive advantage in the areas of – (i) personal service to customers, (ii) extended working hours, (iii) easy credit (iv) proximity. But the question arises how is it possible? Who will help you throughout this mind-numbing process? 
It's not something you can whip up in a hurry. You want to get it properly the first time. Because from now on, every marketing decision you make will be guided by this phrase. 
As your brand positioning statement is an essential approach that summarises your brand's identity, purpose, and strategic edge. To build a brand positioning strategy, you can reach out to us here.